AAUW Maryland a membership community that is changing the climate for women and girls through advocacy, education, philanthropy and research.   AAUW Maryland has 12 branches located throughout the state and the Maryland online community
On January 17, 2022, the Board of Directors of AAUW Maryland voted to allocate $500 for the state Mini-Grant Program for the 2022-2023 program year, which begins July 1, 2022. This is the first year of the Mini-Grant Program. Applications are due no later than June 15, 2022. Decisions on mini-grants will be announced on or about  July 15, 2022. More Information and Application…
The February 2022 Marylander is Here
The February 2022 Marylander is here.  Included in this issue:
Register for March 25-26 Convention in Annapolis by March 4 and plan to visit Annapolis March 25 to celebrate Maryland Day & tour the historic Maryland Statehouse with Senator Edward Riley.  The March 26 Convention theme is Title IX: 50 Years of Progress.  You won't want to miss hearing from an Olympic champion, a renowned educator, and our very own AAUW CEO.
Make your reservation by February 25 at the Country Inn and Suites if you plan to stay overnight. Register for the convention and pre-meeting activities by March 4 to get the best rate
Auction at Convention – Branches are  encouraged to donate items
There's more about convention in the Marylander and at the 2022 Maryland Convention and Annual Meeting page on this website.
New Branch Mini-Grants program is getting started.
Learn how to  2022 AAUW Maryland Woman of Distinction Fund.
And more news and information about how women all over Maryland are working to advance equity for women and girls through research, education, and advocacy.
Support the 2022 AAUW Maryland Women of Distinction (NCCWSL) Fund
Please donate to the AAUW Maryland Women of Distinction Fund. You will help our state become a Platinum Sponsor of the 2022 Women of Distinction Ceremony, the pinnacle event of AAUW's annual  National Conference for College Women Student Leaders. AAUW Maryland will honor Dr. Patricia D. Stocker as our Maryland Woman of Distinction, who will be recognized and featured at NCCWSL 2022.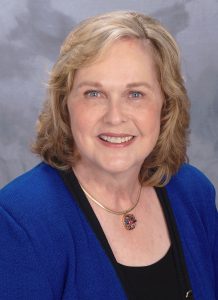 As AAUW Maryland Program co-Vice President, Pat Stocker has materially advanced AAUW's mission by introducing distinguished speakers and panels on topics of timely importance to women and a more inclusive society. Beyond her official responsibilities, Pat has organized online presentations focused on American communities and lives too little known to many. These have raised consciousness, challenged assumptions, and promoted valuable dialog toward healing, mutual trust, and acceptance. She has served in several leadership roles, including as AAUW Maryland president and president of the Bethesda-Chevy Chase Branch.
Pat earned her undergraduate degree, with honors, in English and music at North Dakota State University, proceeding to a doctorate in business administration from the University of Colorado. Her MBA, with concentrations in finance and management, from the Robert H. Smith School of Business at the University of Maryland led to long-term service as Associate Dean, Director of Executive Programs, and membership on its task force on women's issues.
Pat also taught at Georgetown University and the University of Denver, held executive consulting positions in the corporate world, and served on multiple boards of directors of major institutions from Suburban Hospital to Common Cause to her church.
For her tireless advocacy of women in leadership, her caring commitment to all humanity, and her cheerful giving of self, AAUW Maryland pledges to raise $20,000 in Pat's name by April 1, 2022.  Thank you for your contribution of any amount toward honoring her and gaining recognition for AAUW Maryland. To donate online:
Go to www.aauw.org.
Make sure you are logged in to the new AAUW website.
Click Donate on upper right.
Scroll down and click the 7th of 8 choices: 4355, Maryland Women of Distinction (NCCWSL) Fund.
Follow ID and payment instructions
To donate by check: Make check out to AAUW and indicate fund 4355—Maryland Women of Distinction (NCCWSL) Fund—on memo line. Mail to AAUW, 1310 L Street, NW, Suite 1000, Washington, DC 20005.
2021 Women of Distinction Ceremony A Smashing Success with AAUW Maryland Support
Watch Dr. Yvette Myrick's speech, along with Kim Churches and Jacki Gray's introductions.
Very little looked familiar. Yet, this year's National Conference for College Women Student Leaders (we say Nick-whistle), electronically attended by more than 700 students must be called a success. AAUW Maryland played a major role as a platinum sponsor of the always inspiring Women of Distinction (WoD) event on 26 May.
In her opening remarks, AAUW CEO Kim Churches singled out, Maryland's generosity with warm gratitude. The AAUW website also prominently displayed our sponsorship status, our state logo, and AAUW Maryland Woman of Distinction, Dr. A. Yvette Myrick, our honoree in whose name we raised the necessary funds.
Take Work Smart Online Today and Improve Your financial Future!
Work Smart Online, a free salary negotiation course to help women better their financial future!.
This easy, engaging e-tool will teach you to:
• Learn the market value of your skills and experience
• Determine an equitable "target salary"
• Ask for—and get—the pay you deserve
Here's the best part: The program works! In surveys with our participants, nearly all reported having more confidence and better negotiating skills after taking the class. After attending a Work Smart program, nearly half of participants were able to negotiate for a raise, promotion, or higher-paying job.
Take Work Smart Online today and improve your financial future!