Join AAUW Maryland a membership community that is changing the climate for women and girls through advocacy, education, philanthropy and research.   AAUW Maryland has 13 branches located throughout the state and the Maryland online community.
AAUW Maryland  2016 Woman of Distinction Nancy Grace Roman will be inducted into the Maryland Women's Hall of Fame  on March 19, 2020, in Annapolis Maryland.  Information about this event is at http://dhs.maryland.gov/maryland-commission-women/programs/maryland-womens-hall-of-fame/.
Attend the 2020 AAUW Maryland Convention March 20-21, 2020, in Annapolis
Join us for a tour of the state capitol and dine at a local restaurant on Friday, March 20.  Attend the Convention on Saturday.  Former Representative Connie Morella and Kendra Davis, Senior Vice President for advancement and partnerships at AAUW are the featured speakers.  Kate Campbell Stevenson will present her one-woman show, Amending America:  How Women Won the Vote.  Registration Package is here.
Support the 20020 AAUW Maryland Women of Distinction (NCCWSL) Fund
Donate to the AAUW Maryland Women of Distinction Fund before April 1, 2020. You will be helping Maryland honor Dr. A. Yvette Myrick, its Woman of Distinction as the Platinum sponsor of the AAUW Women of Distinction Ceremony at the 2020 National Conference for Collegiate Women Students.
Join us for AAUW Maryland's Convention on Saturday, March 21, 2020, in Annapolis Maryland, with optional tour and dinner on Friday, March 20.,  The Nominating Committee's Report and Candidate Biographies are included stating on page 10.  Registration and Logistics Information are included starting at page 13.  Early bird registration ends March 9, 2020. 
The convention program will focus on celebrating the 100th Anniversary of Women Winning the Vote AND moving our path forward for gender equity.
Also in this issue:
Read the Co–Presidents' Message
2020  Maryland Woman of Distinction
Legislative Update
 AAUW Maryland Legislative Agenda
News from National
Branch News
Meet the Candidates for State Officer
Convention details
And more…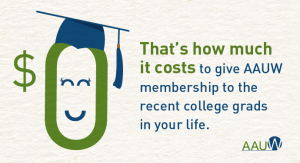 Give graduates you know a free AAUW membership and an AAUW graduation cord to honor the occasion.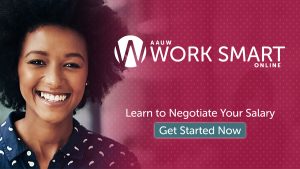 Work Smart Online, a free salary negotiation course to help women better their financial future!.
This easy, engaging e-tool will teach you to:
• Learn the market value of your skills and experience
• Determine an equitable "target salary"
• Ask for—and get—the pay you deserve
Here's the best part: The program works! In surveys with our participants, nearly all reported having more confidence and better negotiating skills after taking the class. After attending a Work Smart program, nearly half of participants were able to negotiate for a raise, promotion, or higher-paying job.
Take Work Smart Online today and improve your financial future!