Join AAUW Maryland a membership community that is changing the climate for women and girls through advocacy, education, philanthropy and research.   AAUW Maryland has 13 branches located throughout the state and the Maryland online community.
AAUW Maryland Annual Meeting is Scheduled for May 26, 2020
Click here for information and updates concerning the 2020 AAUW Maryland annual meeting at which we will elect officers and receive reports from the Officers and Committee Chairs, the business that we would have conducted at the State Convention
JUNE 27, 2020, AAUW Maryland Convention Has Been Postponed Indefinitely
The AAUW State Convention scheduled for March 21,  and rescheduled for June 27 has been postponed.   In a letter sent on April 24, the State Co-Presidents wrote:
The 2020 AAUW Maryland Convention will not be held June 27 in Annapolis.  AAUW headquarters has advised all branches to avoid in-person gatherings through June because of the danger posed by the COVID-19 pandemic.  The State Board conferred by phone this week and determined that we need to honor the guidance from our national office and take precautions to protect the health of our members.
We are disappointed that we won't be getting together in person, and we sincerely thank the Anne Arundel Branch and the Program Chairs for all the work they have put into planning this event.  The State Convention serves critical functions, and we are looking into how to fulfill them to the best of our ability.
We are working with Erin Prangley (the nominee for State President) and Tracy Lantz and Pat Stocker (nominees for Co-Program Chair) and the Anne Arundel Branch to develop plans for a combination of future online and in-person opportunities to replace the June 27 meeting.
A summary of actions:
AAUW MD 2020 Convention will NOT be held in in Annapolis June 27.
A Zoom conference call will be held May 26 at 7:30 pm to elect AAUW MD officers for the terms beginning July 1, 2020.  The most recent Marylander includes information about those running for office.  Each branch will select voting delegates to participate in this election.
Those who have registered and paid for the June 27 meeting will receive refunds.
We hope to hold an in-person state meeting in the fall and will inform you as soon as possible. We will proceed in accordance with guidance from the State of Maryland, the CDC, and National AAUW.
Please read your Marylander and your e-mail for updated information.
We wish you good health and courage during this challenging time.
Susan Wierman,  Co-President, Maryland AAUW
Kate Campbell Stevenson, Co-President, Maryland AAUW
Support the 20020-2021 AAUW Maryland Women of Distinction (NCCWSL) Fund
Donate to the AAUW Maryland Women of Distinction Fund before April 1, 2021. You will be helping Maryland honor Dr. A. Yvette Myrick, its Woman of Distinction as the Platinum sponsor of the AAUW Women of Distinction Ceremony at the 2021 National Conference for Collegiate Women Students.  (The 2020 NCCWSL conference has been postponed one year.)
Take Work Smart Online Today and Improve Your financial Future!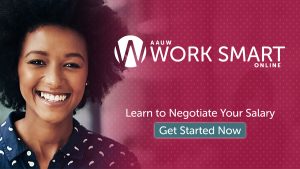 Work Smart Online, a free salary negotiation course to help women better their financial future!.
This easy, engaging e-tool will teach you to:
• Learn the market value of your skills and experience
• Determine an equitable "target salary"
• Ask for—and get—the pay you deserve
Here's the best part: The program works! In surveys with our participants, nearly all reported having more confidence and better negotiating skills after taking the class. After attending a Work Smart program, nearly half of participants were able to negotiate for a raise, promotion, or higher-paying job.
Take Work Smart Online today and improve your financial future!
The Late Nancy Grace Roman Honored by the Maryland Women's Hall of Fame and NASA
AAUW Maryland  2016 Woman of Distinction Nancy Grace Roman was inducted into the Maryland Women's Hall of Fame  on March 19, 2020.  Unfortunately, the ceremony was cancelled.   The full biography of each of the Hall of Fame inductees ii on the website of the Maryland State Archives.  The Maryland Commission for Women also hope to recognize the honorees at the August 26, 2020 Women's Centennial Summit and hope that you will attend that conference.  Watch the Maryland Commission for Women website for more information about that event.d improve your financial future!
On May 20, 2020, NASA is naming its next-generation space telescope currently under development, the Wide Field Infrared Survey Telescope (WFIRST), in honor of Dr. Roman, NASA's first chief astronomer, who paved the way for space telescopes focused on the broader universe.  The newly named Nancy Grace Roman Space Telescope – or Roman Space Telescope, for short – is set to launch in the mid-2020s. It will investigate long-standing astronomical mysteries, such as the force behind the universe's expansion, and search for distant planets beyond our solar system.  Read more.