Join AAUW Maryland a membership community that is changing the climate for women and girls through advocacy, education, philanthropy and research.   AAUW Maryland has 13 branches located throughout the state and the Maryland online community.
---
The Summer AAUW Marylander is Here
Click Here for the Summer 2018 Marylander
Join us for our July 21st Summer Conference at Harford Community College. Our new State Program VP's, Nora Putt and Tracey Lantz have planned a great conference with plenty of built-in time for networking and FUN along with our valuable breakout sessions. Reserve a hotel room by June 27. Early Bird Registration ends July 12. Details and the registration form are here.
Also in this issue:
Hear from our incoming state Co-Presidents, Kate Campbell Stevenson and Susan Wierman
Read Maryland Woman of Distinction Kate Campbell Stevenson's remarks at the AAUW Women of Distinction Ceremony, that was attended by more than 800 women student leaders from across the country.
Get the latest news from AAUW National.
Learn about the newest AAUW Research -Broken Ladders: Barriers to
Women's Representation in Nonprofit Leadership
Read news from the branches
And more..
---
Kate Campbell Stevenson – AAUW Maryland Women of Distinction (NCCWSL) Fund
At the October 2017 board meeting, AAUW Maryland selected Kate Campbell Stevenson as Maryland's 2018 Woman of Distinction.  She will be honored at the AAUW National Conference for College Women Student Leaders (NCCWSL) Women of Distinction Ceremony on May 31, 2018.
The Conference, which attracts more than 1,000 students from throughout the United States, is held in late May/early June at the University of Maryland, College Park.   As the platinum sponsor of the Ceremony, AAUW Maryland names its own Woman of Distinction. To date, Barbara Fetterhoff, Janet Crampton, Jenny Forehand, Dr. Mary Grace Roman, and Cleopatra Campbell have been honored thanks to generous donations from AAUW Maryland members who provide the platinum sponsorship cost of $20,000 each year by April 1.
Support the 2018 Women of Distinction Ceremony
In 1995 Kate Campbell Stevenson read the AAUW publication on How Schools Shortchange Girls and joined the AAUW Kensington-Rockville Branch.  That publication was the "spark" that compelled her to combine her passion for the arts and women's issues to create a series of one-woman shows called Women: Back to the Future. She uses musical theater arts not only to entertain but as a strong motivational tool for societal change.  In her performances, Kate emphasizes historic women role models and how they overcame personal and cultural barriers to obtain their goals.   Her latest one-woman show, Forging Frontiers, features historic and contemporary women leaders in STEM – Science, Technology, Engineering, and Math.  Kate's programs entertain, educate and motivate audiences throughout the United States in schools, U.S Government and Military, conferences, and conventions.
Kate is a devoted catalyst for women's issues, families, and communities.  A lifelong community activist, she served as Board Chair of Empowered Women International from 2009-2013 and was recognized in 2012, and 2015 as one of Maryland Top 100 Women by The Daily Record for her "significant professional accomplishments, outstanding community leadership and inspirational mentoring."   Other accolades include 2014 Maryland BPW, Woman of Achievement; The Maryland State Educators Association statewide recipient of the 2015 Dorothy Lloyd Women's Rights Award for her outstanding contributions in the areas of Equity, Education, Civil Rights, and Community Leadership.  She currently serves as Co-Vice President of Programs of AAUW Maryland; Co-President of AAUW, Kensington-Rockville Branch; Vice-President, Programs, Montgomery County BPW;  Board Member of Rachel Carson Landmark Alliance and Cultural Ambassador for the Maryland Women's Heritage Center.
Help us honor Kate Campbell Stevenson with your contribution to the Maryland Women of Distinction (NCCWSL) Fund.  You can send a check directly to AAUW National, noting fund number 4355 – Maryland Women of Distinction (NCCWSL) Fund; Contribute online using the link below or by going to http://aauw-md.aauw.net/donate-wod/  and using a credit card. Under Individual Contributions, click on the dropdown list under Other Special Funds and Giving Circles and choose the Maryland Women of Distinction (NCCWSL) Fund.
---
Don't miss Cleopatra Campbell's Confessions of a Woman of Distinction and find out how you can support the 2018 Women of Distinction Ceremony.
Support the 2018 Women of Distinction Ceremony
You will be helping Maryland honor it's Woman of Distinction as the Platinum sponsor of the AAUW Women of Distinction Ceremony at the 2018 National Conference for Collegiate Women Students.
Read the Winter 2017 Issue of the Marylander
---
States Notch Multiple Equal Pay Victories in 2017
Voters are fed up with the persistent gender pay gap, and many state legislators are listening. In 2015 and 2016 dozens of legislatures proposed and enacted bills and laws addressing pay inequality.
In 2017 a whopping 42 states, plus Puerto Rico and Washington, D.C., offered legislative solutions to the gender pay gap. While not all of these bills passed, this growing activity shows that red, blue, and purple states realize that the pay gap is real and that something needs to be done about it.
Read More. 
---
Upcoming AAUW National Events
Skill-Training Webinars for Members
Skill-training webinars are an easy way to learn strategies and techniques that can help your branch grow and give leaders the confidence they need to take on new challenges.
Join us on January 9 for a discussion on how to raise funds from businesses and individuals in your community for Fundraising from Other Pockets and on February 13, learn how to welcome and engage a diverse membership with the Inclusion and Equity Committee.
Register for one training or more
---
Give the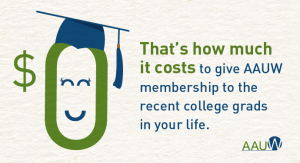 graduates you know a free AAUW membership and an AAUW graduation cord to honor the occasion.
Maryland sponsored the NCCWSL Women of Distinction Ceremony on June 1, 2017.   Maryland's Woman of Distinction, Cleopatra Campbell, spoke to the thousand students in attendance.  Read more...
Maryland held its 75th AAUW State Convention  on Saturday, April 8, 2017.  Read more…