Join AAUW Maryland a membership community that is changing the climate for women and girls through advocacy, education, philanthropy and research.   AAUW Maryland has 13 branches located throughout the state and the Maryland online community.
FALL MEETING INFORMATION AND REGISTRATION PACKAGE
Civility to Highlight AAUW Maryland Fall Meeting
For thousands of years, people have struggled with staying respectful and courteous toward others. We are
currently seeing a huge resurgence of interest in civility. Each generation comes to it anew. Triggers include road rage, the internet, Facebook, political polarization, texting and tweeting. And with more high-speed communication and mobile devices, it's tempting to participate in conversations instantaneously, without always thinking how our comments might impact others.
The Fall Meeting will focus on the important and, sadly, all-too-urgent topic of civility. We will share insights on civility—what this concept entails and how we might go about restoring and maintaining more civil discourse and behavior in a respectful, functioning society. We will include such aspects as cyber-attacks and bullying.
 Daniel L. Buccino, Director, Johns Hopkins Civility Initiative will be the featured speaker.  He is the clinical manager for the Johns Hopkins Broadway Center for Addiction, the founder and director of the Baltimore Psychotherapy Institute, and an advisor and trainer for the International Center for Clinical Excellence.
FALL MEETING INFORMATION AND REGISTRATION PACKAGE
The Fall 2019 AAUW Marylander is Here
Click Here for the Fall 2019 Marylander
Join us for AAUW Maryland's  Fall Meeting  in Baltimore, Maryland, on October 26, 2019.  The Agenda along with   Registration and Logistics Information are included starting at page 8
Also in this issue:
Read the Co–Presidents' Message
 Co-Presidents' Letter
2020 State Convention – March 21, 2020
Maryland Woman of Distinction 2020 –  Call for Nominations
Upcoming AAUW MD Policy Events
AAUW Maryland Summer Program Recap
Upcoming Diversity and Inclusion Events
Be a Salary Negotiation Ambassador
Voices of Women in America Survey
Nancy Grace Roman's Legacy Gift to AAUW
Branch News
And more..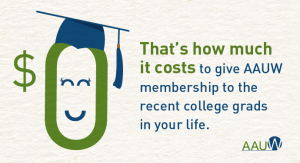 Give graduates you know a free AAUW membership and an AAUW graduation cord to honor the occasion.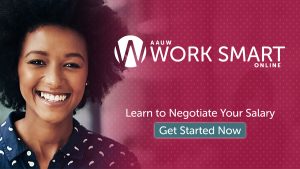 Work Smart Online, a free salary negotiation course to help women better their financial future!.
This easy, engaging e-tool will teach you to:
• Learn the market value of your skills and experience
• Determine an equitable "target salary"
• Ask for—and get—the pay you deserve
Here's the best part: The program works! In surveys with our participants, nearly all reported having more confidence and better negotiating skills after taking the class. After attending a Work Smart program, nearly half of participants were able to negotiate for a raise, promotion, or higher-paying job.
Take Work Smart Online today and improve your financial future!