Join AAUW Maryland a membership community that is changing the climate for women and girls through advocacy, education, philanthropy and research.   AAUW Maryland has 13 branches located throughout the state and the Maryland online community.
Dr. Bruce Stewart – National Expert on Diversity and Inclusion to Highlight AAUW Maryland Summer Meeting on Saturday, July 20, 2019, in Frederick Maryland.  The cost of $35 ($40 after 7/10/19) includes continental breakfast and lunch.
CONFERENCE INFORMATION AND REGISTRATION PACKAGE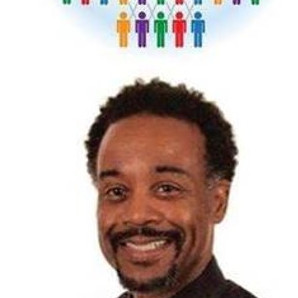 In 2011, President Obama issued an Executive Order establishing a coordinated government-wide initiative to promote diversity and inclusion in the Federal workforce.  Because of  his outstanding and varied academic and practical experience in diversity programs, Bruce Stewart was selected to implement the President's Executive Order.  Dr. Stewart led this effort, serving as Deputy Director, Office of Personnel Management (OPM), overseeing training, compliance, and strategic initiatives in the Office of Diversity and Inclusion.
Dr. Stewart retired as a Lieutenant Colonel from the US Air Force in October 2007 after 23 years of service.  During his service he was attached to the Special Forces, served as a Management Engineer, and was a Computer and Communication Commander.  His last assignment was as the Air National Guard's (ANG) Director of Cultural Diversity Transformation.  After retiring, Dr. Stewart founded i-Global Network Inc., a management consulting firm that specializes in helping organizations create healthy cultures.  He has lectured on diversity at leading educational institutions including MIT, Harvard, and the Naval NCO Academy.
As a recognized subject matter expert on diversity, he was appointed as an advisor to President Obama's Military Leadership Diversity Commission.  Dr. Stewart is a sought-after speaker on all components of diversity and inclusion and regularly presents seminars, workshops, and keynote presentations for diversity conferences, government agencies, and webinars.  He has a BS degree from Southern Illinois University and an MS degree in computer science from Friends University.  He also holds a Ph.D. in Law and Policy from Northeastern University in Boston, MA.
Dr. Stewart authored a book on leadership diversity titled Cultural Leadership:  The New Chemistry of Leading Differently.
Dr. Bruce Stewart will present a workshop on "Dimensions of Diversity and Inclusion" as part of AAUW Maryland's Summer Meeting to be held in Frederick on July 20, 2019. 
CONFERENCE INFORMATION AND REGISTRATION PACKAGE 
The Summer 2019 AAUW Marylander is Here
Click Here for the Summer 2019 Marylander
Join us for AAUW Maryland's  Summer Conferee in Frederick, Maryland, on July 20, 2019.  The Agenda along with   Registration and Logistics Information are included starting at page 12.
Also in this issue:
Read the Co–Presidents' Message
State Public Policy News
New Advocacy Resources from AAUW
Be An AAUW Salary Negotiation Ambassador
 News from the Branches
AAUW – Doing Less with Less with More Impact
Convention Highlights
Summer Conference Agenda and Registration Materials
And more..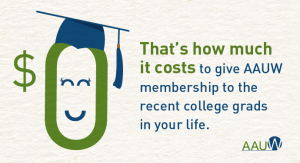 Give graduates you know a free AAUW membership and an AAUW graduation cord to honor the occasion.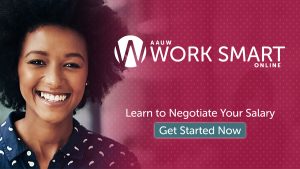 Work Smart Online, a free salary negotiation course to help women better their financial future!.
This easy, engaging e-tool will teach you to:
• Learn the market value of your skills and experience
• Determine an equitable "target salary"
• Ask for—and get—the pay you deserve
Here's the best part: The program works! In surveys with our participants, nearly all reported having more confidence and better negotiating skills after taking the class. After attending a Work Smart program, nearly half of participants were able to negotiate for a raise, promotion, or higher-paying job.
Take Work Smart Online today and improve your financial future!