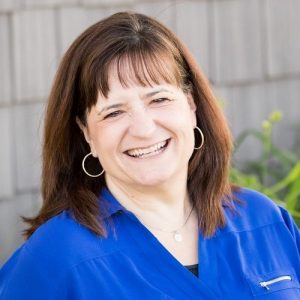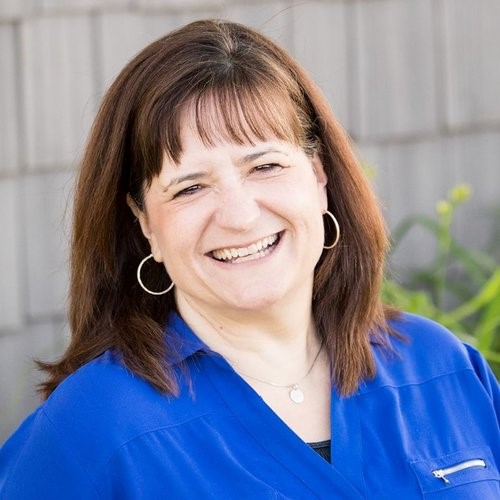 Judy Carbone of Garrett County,  2019 Maryland Woman of Distinction, has been active in AAUW for 17 years. She is current President of the Garrett County Branch of AAUW, where she helped re-energize and grow branch membership and build enthusiasm for AAUW's mission. She recently retired as the volunteer coordinator for HART for Animals, which is a pet adoption and care center, where she manages several hundred volunteers of all ages.   She formerly worked as an Administrator and career advisor at Garrett College. She mentors the AAUW student branch at Garrett College, which she helped to form.  Judy has spent her entire professional lifetime lifting up students and encouraging them to believe in themselves, develop and realize their own special skills and provide leadership opportunities for them to better hone those skills.  In 2012 she was appointed by the County Commissioners to the Garrett County Commission for Women and has been the Chair for the past 2 years. She also serves on the Board of Directors of Engage Mountain Maryland.
From the 2019 Women of Distinction Awards Ceremony
Introduction by Kate Campbelll Stevenson:
Good Evening! It's my great pleasure to introduce you to a woman of courage and commitment.
I met Judy Carbone last year.  I immediately sensed Judy as a woman of action.  I meet tremendously talented Maryland women throughout the year- every year.  But I did indeed sense something very special about Judy.
She's been actively involved in AAUW for over 17 years.  She served as President of Garrett County Branch 2004-2005.  In 2016 – Judy stepped in to the branch president role again after another officer's death.  Not just filling in but transforming and growing the Garrett County Branch – back from the brink of folding to over 25 active members! In 2017 she initiated the formation of the AAUW Garrett College Student Chapter.
Judy Carbone has spent her entire professional lifetime lifting up students and encouraging them to believe in themselves, AND to help them develop and realize their own special skills.  She then provided leadership opportunities for them to better hone those skills through AAUW and with the Garrett County Commission for women on which Judy also served as Commissioner.
Last year at NCCWSL I met many of the students Judy had helped. They went on and on about how Judy inspired them into student leadership roles.  Several of these students have moved on to four – year institutions. Yet they continue to connect with Judy – some even coming back on weekends to work on her campaign to run for District 1 Garrett County Commissioner last November!
Only one other woman has been elected as Garrett County Commissioner and that was long ago… Yet Judy dared to do so as a Democrat in a county that is run by overwhelmingly Republican males.  She did so – as someone who encourages everyone to be involved in the political process – building coalitions and inviting all sides to be creative participants in government.
At a time when our society is so divided, Judy's emphasized the coming together as a true community to listen and more effectively address the County's challenges.  If she won or not –  is not my point.  She had the gumption to put all her energies to broadening opportunities for community members and specifically give a voice to more women and girls in Garrett County. She's fighting for a seat at the power table instead of settling for being dessert!
To me she is an inspiring trailblazer for all the right reasons.  It is my honor to introduce our 2019 Maryland Women of Achievement, Judy Carbone.
Judy Carbone's Remarks:
Thank you.  I am truly honored and humbled to receive this recognition.  I'd like to thank AAUW-Maryland for nominating me, especially the wonderful Kate Campbell Stevenson, and I would like to thank the members of AAUW-Garrett Branch for trusting me to be its Branch President.
I have been involved in AAUW now for 18 years and have never been prouder to be a member.  I have also never been more convinced of the need for this organization in speaking out for women's equity…my equity and your equity and the equity of your daughters and granddaughters in the future.
What to say in these remarks has challenged me for months, especially when I heard I could only have 5 minutes.  Those who know me well know that I rarely say anything in only 5 minutes.
But…it was suggested to me that I think of one thing that I want to share with you about moving forward and making a difference.
And so, the one thing what I want to say to you tonight is …
 USE YOUR VOICE AND DEMAND TO BE HEARD!
Make others listen to what you have to say…don't be afraid…don't hold back…be bold and take risks.  Our society and our nation are better off when you use your voice and demand to be heard!
From personal experience, I can tell you that speaking up is often a combination of having courage and being foolish.  When I say foolish, I'm not talking about doing something that threatens your well-being.
I'm talking about having the conviction that your voice is important and that speaking up is the right thing.
I am talking about accepting that there is no guarantee of success – that people may not like what you say and be mad at you – but doing it anyway.
Courage sometimes takes being foolish…it always means taking risks.
I've learned this from my own experience in demanding to be heard, making people mad, taking risks, and failing…but I've also learned that even in failure, speaking one's truth is never a mistake…and that the risk is greater if you don't speak your truth.
This past year, I was a candidate for the office of County Commissioner in Garrett County, Maryland, a predominantly Republican community – a very conservative, rural community – a community that has only ever had one woman in the position of County Commissioner in its history.  As a Democratic woman who is not a native of Garrett County – I have only lived there for 20 years! – I knew there was little chance that I would win the election.
My decision to run was born from anger and started in November 2017, a year before the election.  It was apparent that there would be no Democratic challenger for the 3 Republican male incumbents.  Earlier that year, I had attended the Women's March in Washington DC, and about a month before, I had attended the Women's March Convention in Detroit, MI.  There were predictions of a blue wave for the 2018 elections and an even stronger pink wave with more women than ever running for office.
I was stoked …and I was mad.  How could there be no one, male or female, running against the incumbents?
When I got home from the Women's Convention, I had attended an event with Heather Mizeur, who had lost her bid in the 2014 primaries to be the Democratic candidate for Governor.  I told her I was mad.  She looked me in the eyes and said, "then you run!"
And so, on a Sunday afternoon in my living room, I gathered people whose opinions and experience I respected and asked them what they thought.  I asked them for their support.  And when they all told me that yes, I should run …and that yes, they would help… I decided to exercise courage and foolishness and take the leap of faith.  It was an  informed leap of faith, but one none the less.
I knew there was no guarantee I would win, and from the very beginning, I detached myself from the outcome of the election.  With both feet, I plunged in and spoke my truth about the vision I had for the community I loved and the need for more traditionally Democratic values that I believed would strengthen our community.  And while I worked hard for 11 months, buoyed by the support and persistence of so many volunteers, I did not win.  I only received 30% of the votes.
I did not win but neither did I lose.
The voting statistics showed that about 17% of the votes I received were Republicans.  So, I know my message crossed what had always been thought to have been impenetrable party lines.  We also galvanized a group of marginalized voters, and they are already working together and diligently with an eye on the 2020 and 2022 elections.  My making my voice heard allowed them to feel theirs could be heard, too.
And along the way, I learned more about my community and the possibilities for our future than I could have learned any other way.  I developed new relationships and new alliances that were previously unavailable to me.  Today, I am more determined to be engaged and to be involved in some of the issues I see facing our community, especially for women and girls …and I am more determined to keep using my voice and demanding it be heard!
I urge you to USE YOUR VOICE AND DEMAND TO BE HEARD!
To the young women attending NCCWSL, I want you to know that we need your voice more than ever!  We need women's voice more than ever.  We need women to stand up for what they believe in.  We need women to run for office!  Whatever happens – win or lose – when you stand up for what you believe is right, you are going to be amazed along the way and have new doors open for you, doors that you never thought were yours to open.
To the women who are young at heart if not young in years…help them!
Help these young women speak up and be heard.  Yes, share your wisdom with them, but more importantly, share your resources including your contacts, your money, your time but most of all your action.
Remember…empowered women empower women.
I know I am out of time, but just super quick…a short poem, author unknown, that somehow came to me on the campaign:
One Woman Awake
Awakens another;
The second awakens her next door neighbor
And three awake can rouse the town,
And turn the whole place upside down.
And many awake
Can raise such a fuss
That it finally awakens the rest of us.
One woman up,
With dawn in her eyes,
Multiplies.
Thank you for letting me share some of my story with you tonight.  Thank you for this great honor.