AAUW Maryland once again earned the right of Platinum Sponsorship of the Women of Distinction award ceremony, the crowning event of AAUW's annual National Conference for College Women Student Leaders (NCCWSL), which was held May 24-26, 2022.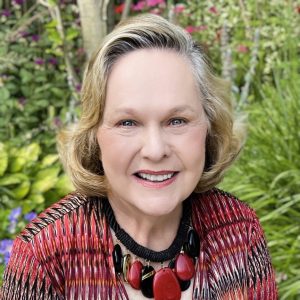 Our reward for providing the qualifying $20,000 was to name our own AAUW Maryland Woman of Distinction—for 2022, Dr. Pat Stocker, academic and business executive, volunteer on national boards, and the state and branch AAUW leader we've all come to know and admire.
NCCWSL 2022 was again held virtually. Pat Stocker opened the event with her story of growing up in Fargo, where, as heir to her father's musical talent, she developed her skills in piano and voice. She credited her mother's promotion of the scientific method for her own curiosity and pursuit of the new, as well as a willingness to tackle and solve problems.
As she highlighted her multifaceted career and life experiences, Pat repeatedly emphasized the importance of women supporting other women. Pat then left the screen but, unexpectedly, she was called back to participate with the others in an inspiring interview session with AAUW Chief Executive Gloria Blackwell. Without missing a beat, Pat responded thoughtfully and in-depth to issues ranging from how to stay on course during a pandemic to envisioning the best way forward for women. Among many perceptive suggestions, she advised her viewers not to approach their first jobs as a lifetime decision, and to seek a field that opens more, not fewer, doors.
Pat Stocker is an advocate of women's issues and dedicated to bringing out the best in people. Her career extends to executive education design and implementation for businesses and non-profits. She served as President of AAUW Maryland from 2012-2014 and is AAUW Maryland's Vice President for Programs and President of the Bethesda-Chevy Chase branch. She is a representative to the United Nations Commission on the Status of Women.
Stocker holds a Ph.D. in Business Administration and Marketing from the University of Colorado; an MBA from the University of Maryland, College Park, in Finance and Organizational Behavior; and a BA from North Dakota State University in English. She received the Alumni Achievement Award, the highest honor the University can bestow on a graduate.
Thank you, Pat, for doing us proud! Within the obvious limits of Zoom, you presented an engaging and useful program for the many tuned-in college women student leaders.