Confessions of a Woman of Distinction
By:  Cleopatra Campbell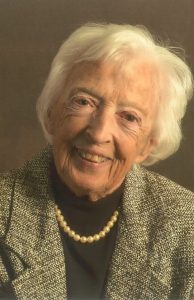 My first confession is that although I have been a member of AAUW for over fifty years, I knew nothing about the AAUW National Conference for College Women Student Leaders (NCCWSL, pronounced Nic Whistle).  I had no memory of the Women of Distinction program, or that, in fact, NCCWSL had been in existence for thirty-four years. The Women of Distinction program has been in existence for thirty-two years, and AAUW Maryland had been the platinum sponsor for seven years.
My introduction to NCCWSL was in a telephone call telling me that I was the Maryland Woman of Distinction for 2017.  Later I learned that the purpose of the conference is to bring women college student leaders together to hear about opportunities to develop leadership skills.  Approximately 1000 women students attended the 2017 conference, coming from all parts of the United States.  The students stayed in dormitories on the University of Maryland campus.  For many of the students, their costs of attendance were paid by donations from individual AAUW branches across the country.
On June 1, 2017, at the student union of the University of Maryland, I was the Maryland woman honored as a woman of distinction, introduced humorously by Margery Sullivan.   AAUW had nominated four other women of distinction.  As the platinum sponsor, AAUW Maryland names its own woman of distinction.  Women previously named as Maryland Women of Distinction include: Jenny Forehand, Janet Crampton, Barbara Fetterhoff, and Dr. Nancy Grace Roman.   Generous donations from AAUW Maryland members provide the platinum sponsorship cost of $20,000.
Along with the national nominees, I gave a short speech.  My message was "invest in yourself." After the program, over 100 students lined up to meet me and to have their pictures taken.  Their message to me was "thank you for what you have done for women."