Support the 2023 AAUW Maryland Women of Distinction (NCCWSL) Fund
Please donate to the AAUW Maryland Women of Distinction Fund. You will help our state become a Platinum Sponsor of the 2023 Women of Distinction Ceremony, the pinnacle event of AAUW's annual  National Conference for College Women Student Leaders.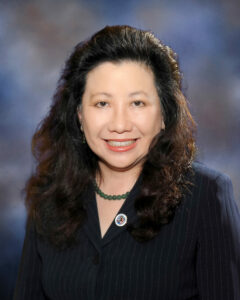 AAUW Maryland will honor Senator Susan Lee, Maryland's new Secretary of State, as our Maryland Woman of Distinction, who will be recognized and featured at NCCWSL 2023. She will be honored at AAUW's 2023 National Conference of Collegiate Women Student Leaders (NCCWSL) event in late May 2023.
Lee represents District 16 in Montgomery County, and she is the State Senate Majority Whip. She is the first Asian American elected to the Maryland State Senate and was the first Asian American woman and first Chinese American to be elected to the Maryland legislature. In January 2023, Gov. Wes Moore appointed Sen. Susan Lee as Maryland's secretary of state and the first Asian American to hold the position. She is one of the strongest advocates for women in the Maryland state legislature.
As we have done for many years past, our goal is to raise $20,000 to be a Platinum Sponsor of the NCCWSL Woman of Distinction event. As the end of the calendar year approaches, we encourage all members and branches to consider the Woman of Distinction fund in your philanthropy plans – any amount is welcome!  Thanks in advance for your generosity as we once again aim high to support this event. Let's honor Senator Lee for her support of all women in Maryland.
To donate online:
Go to www.aauw.org.
Make sure you are logged in to the new AAUW website.
Click Donate on the upper right.
Scroll down and click the 7th of 8 choices: 4355, Maryland Women of Distinction (NCCWSL) Fund.
Follow ID and payment instructions.
To donate by check: Make check out to AAUW and indicate fund 4355—Maryland Women of Distinction (NCCWSL) Fund—on the memo line. Mail to AAUW, 1310 L Street, NW, Suite 1000, Washington, DC 20005.
AAUW Maryland Women of Distinction
Since 2011, AAUW Maryland has been a platinum sponsor of the AAUW Women of Distinction Ceremony at the National Conference of Collegiate Student Women.  In addition to AAUW's national honorees, the following AAUW Maryland Woman of Distinction have been featured speakers.
Join the Legacy Circle
An easy and rewarding way to help ensure our organization's future is to consider AAUW in your estate planning. Becoming a member of the AAUW Legacy Circle, as many AAUW Marylanders have, can be as simple as including a gift in your will. Other types of legacy giving could include donating a life insurance policy, retirement plan, charitable trust, or even real estate.  There are no minimums and the paperwork is fast and confidential.
Visit the Planned Giving Page on the AAUW Website for additional types of possible gifts and the enrollment form. Or for more information, contact National Legacy Circle Team Liaison Kristin Moyer at kcmoyer65@gmail.com or 703-242-6428.
Support the Greatest Needs Fund or a Strategic Focus Area
AAUW's strategic plan lays out a bold vision for the future. By giving to the AAUW Greatest Needs Fund or one of the strategic focus areas, you can make that vision a reality. A donation to the Greatest Needs Fund will help us expand our highly successful, community-based, mission-driven programs, such as Start Smart and Work Smart and the National Conference for College Women Student Leaders, conduct groundbreaking research, and launch innovative initiatives to help women and girls thrive.
Supporting AAUW through the Greatest Needs Fund, or to any of the strategic focus areas, gives the organization tremendous flexibility to respond to unforeseen challenges facing women and girls, cultivate mission-based opportunities for action, and attract new members and supporters.