Who Can Join
AAUW membership consists of individual and college/university members.
If you hold an associate's or equivalent, bachelor's, or higher degree from a regionally accredited college or university, you can join AAUW.
If you are an undergraduate in a two-or four-year regionally accredited educational institution, you can join as a student affiliate of a branch or a student-affiliate-at-large.
Qualified institutions are educational institutions that offer recognized associate, baccalaureate, or higher degrees and that have full regional accreditation (including two-year or community colleges) or appropriate professional association approval.
AAUW values and seeks a diverse membership. There shall be no barriers to full participation in this organization on the basis of gender, race, creed, age, sexual orientation, national origin, disability, or class.
For membership information contact the branch near you or Maryland's Membership Vice-President, Carol Mueller.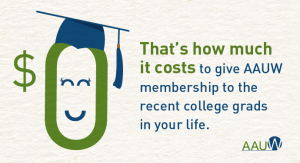 Give the graduates you know a free AAUW membership and an AAUW graduation cordto honor the occasion.
Resources for Branches
Check the AAUW website for the membership resources available for you.  Additions are made frequently.  To get you started:
State Dues
Maryland state dues are $10.00 (Branch and Life Members.)
Maryland state students dues are $3.
Honorary Life members are zero for National and State dues.
Introduction to the AAUW Member Center
Find your member number – this is necessary for using the Member Center
Select Member Login on the upper right of the AAUW home page
Click Member ID Lookup in the center of the page – provide your name, State and Zip code and continue to MEMBER CENTER.  Your member number will be listed – click login
MEMBER CENTER: Resources for Officers, Forms, Member Services Database, and other resources
At the January 17, 2009, State Board Meeting, the state voted to participate in the Membership Pilot Project. The Membership Pilot Program (MPP) is a new voluntary pilot program to aid members and branches with dues payment, collection, and record keeping.. Any branch/ state may choose to participate – or not.  The MPP will "go live" beginning May 1, 2009, for the 2010 fiscal year. Training will be available at spring state meetings and the 2009 AAUW National Convention in St. Louis.
Using the Member Services Database – after you register you can make sure you address and email are correct; find contact information for State and Branch officers; see and download your branch roster; make a contribution; and the Branch Financial Officers/Treasurer can edit the Branch roster listings to correct member addresses, etc.
Register – enter Member Center (red button near top of AAUW Home Page or from login at member number search – add your member number and click Log in.  Select Member Services Database button on the upper left.
You will need to get a password – click Register Here and provide your name, state, zip code and last four digits of your home phone. You will receive confirmation by email.
Edit your personal information – make sure that your address and email are up to date:
Select My Profile on left and click editing option
Find contact information (email) for State/Branch Officers – select State/Branch office information on left.  You can view information for your State or Branch.  If you are an officer, you can see your counterparts list.
Make a Contribution – you can choose the fund. For example, select Educational Foundation button to see all named funds and scroll to the Dian Belanger fund. You can also make a contribution by selecting Contribute the AAUW home page. The site is secure!
Correct branch member roster – if you are the Financial officer or Treasurer of the branch.
View Branch Roster – Select Branch Member Roster button on left, then select your branch.